Etat de Vaud — Cybersecurity testers
Creative campaign
Digital content
Utilitarianism
2021
Nathan Saurer as Director
Long live the Internet! Most of us have got that t-shirt and cyber criminals are giving them out for free if you don't (it is their playground after all). Well, the Canton of Vaud figured it was time to help secure that playground by ramping up cybersecurity awareness. We just had to figure out how to do that without putting everyone to sleep.
Like every self-respecting company, our whole team has gone through the agony of doing hours of online security awareness modules. Not to say they aren't useful, just boring with a capital B. We wanted to make this awareness campaign something people could laugh at and learn from: a series presenting comically familiar situations played out by two overly eager but endearing characters.
Big up to the Canton of Vaud who willingly gave us free rein to write and produce this little sitcom series. A spoof of their admin services come up with the bright idea to confide cyber security awareness to two of their trainees.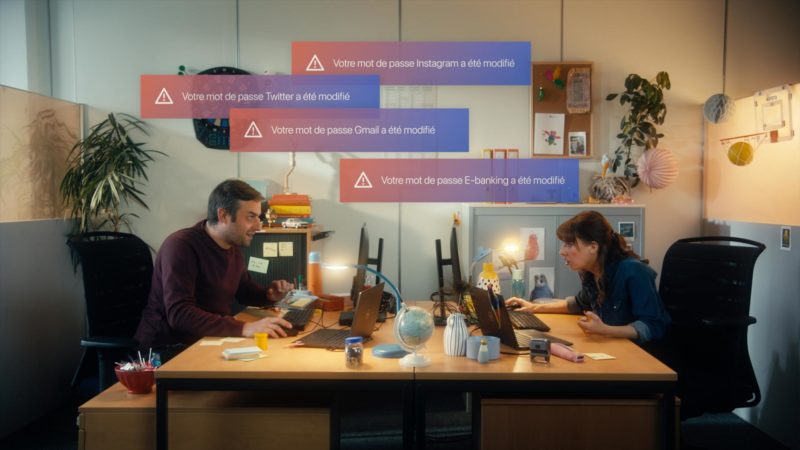 Credits
Producer: Richard Ammann (23bis)

Film Director: Nathan Saurer (23bis), Cyril Jaunin (23bis)

Assistant Director: Mathilde Neau (23bis)

Production Assistant: Elsa Dubois

Editor: Julie Pellet (23bis)

Director of Photography: Natasha Vavrina

1st Camera Assistant: Cédric Heckly (23bis)

2nd Camera Assistant: Fanny Reynaud

Color Grading: Gaïth Zehri

Gaffer: Paulo Silva

Sound: Camille Bonard

Set Designer: Hélène Spycher

Stylist Assistant: Laurine Frey

Make up: Laura Pellicciotta

Cast: Donatienne Amann, Simon Romang, Florence Quartenoud Perez, Eric Verbon, Danielle Pouly, Sandro Vergara

See all
Services
Creative strategy
Copywriting
Art direction

Film Direction
Film production
Graphic design
Motion design & CGI
Post-production
Set Design
Social Media Assets
Next project
 HEC Unil — Google Scholar
Scroll