On June 25th 2013, during his speech on global warming, Barack Obama declared: 
We can only agree, Mr. ex-President, because today, the long list of social and economical issues facing the world can no longer be ignored, they are the living backdrop of our existence. But that doesn't mean we have to sit back and watch the world burn. Instead, we have chosen to make real changes that create a positive impact wherever we can.
Change. Making it real.
At 23bis we all agree that sharing the same values is important. As individuals, we lead lives that tend to take humanitarian and ecological concerns into account, and with so much time spent together at work, it is only natural that our principles spill over into our professional lives.
So in 2020, realizing that we shared a deep desire to take responsibility for the sustainability of our ways of working, we decided to equip ourselves with the tools needed to implement real change. To encourage this transition, we took our first steps towards B-Corp certification, an NGO-issued label that certifies businesses whose entire social and environmental performance meets the highest standards.
More than a communication platform, a label is a movement that brings people, motivated to make a systematic change, together. As a company, our image and our actions have an impact on the community, which in turn, gives us the responsibility to ensure that this influence reflects who we are.
The B Corp label, perfectly aligned with our values and our determination to evolve, was the natural course of action. And so it is that a few months ago, we began our adventure towards a positive, sustainable transition.
Our first steps on a long road
In spite of our firm resolve, attaining this label is not an easy task. It takes unwavering commitment and the process is long but well worth the time and effort when all is said and done. In our case, the principal requirement was to identify and then formalize what we had already put in place rather than initiate new practices.
The first step towards achieving this goal is to undergo a B Impact Assessment (BIA). This tool assesses the company's overall social and environmental performance in comparison to other companies of the same size and industry. This makes it possible to inventory the current situation and determine the best path to take in order to meet the requirements as established by the label. The responses are then scored and averaged out to determine whether or not the label criteria are met. Usually —and we are no exception to the rule— all the criteria are not met on the first assessment, but the tool gives the guidance needed to make improvements where required.
To get there, five categories of changes need to be taken into consideration:
1. Governance
Improvements to practices and policies with regards to the company's mission, ethics, responsibility, and transparency.
2. Employees
Contributions to the financial, physical, professional, and social well-being of employees.
3. Community
Contributions to the social and economic well-being of the communities in which the company operates.
4. Environment
Improvements to the global environmental management in the company's daily actions.
5. Clients
Improvements to the value created for direct customers and consumers of products and services offered.
These five themes are easily summed up in two axes: ecological and social.
Ecological impact
As the saying goes, Rome was not built in a day! This also applies to our environmental transition as we implement one change at a time, sometimes small but each of their own importance.
We started off with the place where everything starts: the office, rethinking our daily routines and making the necessary adjustments, similar to what can be done at home as well.
We reconsidered our means of transportation, how to lower energy consumption, reduce and sort waste more efficiently, and prefer local suppliers like Opaline, Farmy, GreenShop, Uglyfruits, even AirPQ (a bit of a stretch perhaps, but we are shooting for the moon) to make our workplace ecologically friendly. All these little things add up and lead to a positive impact when implemented and followed to a tee.
We also tend towards projects with an ecological and social focus or that promote not-for-profit organizations, as much in our ways of working (being careful of our consumption) as in project objectives (the message and goal). If a project doesn't fit this framework (ads for a controversial product or service for example) we won't take it. With this somewhat radical approach, we succeed in moving towards a fully ecologically responsible vision.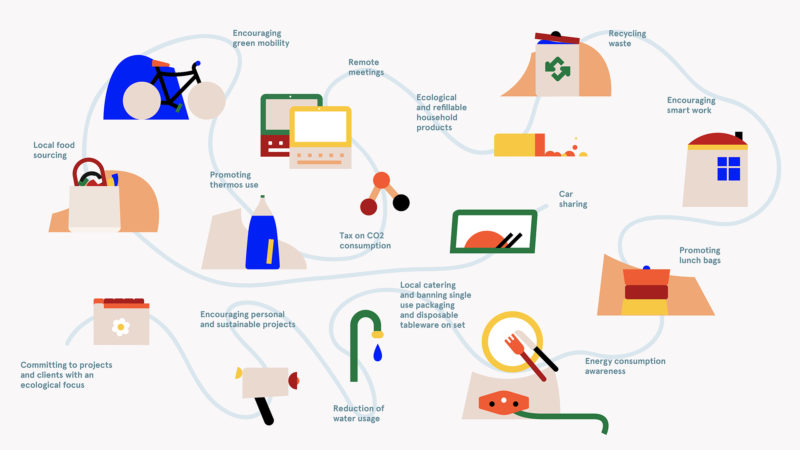 Social impact
At 23bis…
Over the years, you could say that 23bis has become a community where everyone watches over one another. The human aspect is as important to us as professional expertise, our close relationships being so dear to our hearts and extending well beyond an employee-to-boss rapport (going to the market together, watching Koh Lanta at the office, etc.). We've left the classic hierarchical model behind in order to give everyone the freedom to express themselves both in terms of creativity and in management decisions. We grow and move forward together, which is why we feel it is crucial that everyone has their say and is heard.
To make working conditions as pleasant as possible, we offer flexible working hours, the possibility to work from home, training courses that match the aspirations of employees, annual subsidies for public transport and sports activities, ergonomic office equipment, and recently, we set up an innovation lab for the development of projects that embody company values and to encourage employees who wish to explore new creative horizons.
…and beyond
Doing the work we love and getting so much fulfilment out of it, is the foundation on which we've built our company's success. But going forward, can our work have a positive impact on society?
We are proud to say that for several years now, we have had the opportunity to deliver a number of humans, social and environmental-centric projects for clients that represent these values. Our goal for the future is to work exclusively on projects that support at least one of these fundamentals. Operating within a business sector that is helpful to society is a major principle of the B-Corp certification and requires that we look at our clients' values, the projects they give to us, and the values of partners that work on a given project. A difficult task, as it means moving towards clients and projects that are sustainable and socially responsible only. But this constraint also motivates us to raise awareness and support clients who are open to having their communication projects handled in an ethical manner.
In hopes of a better world
You don't have to be a saint to be ethical. Like everyone else, we've made mistakes, have learned from them, are still learning, and will certainly continue to learn in the future. But it is our motivation that will keep pushing us forward. Aspiring to be B-Corp certified does not mean that we have reached the holy grail (even as this is being written, we are still in the process) but rather officializes and rewards the beginnings of real change. Throwing ourselves into this adventure gave us the keys to move forward, feel the support, and strengthen our resolve.
And this is where the key to change lies; in acting together. It is the collective effort that gives weight to our actions and strengthens our impact on turning the tide. This is why we encourage you too, to follow suit and commit to the changes that will build a sustainable future because we all have a role to play.
Feel free to write to us or to look at the B Lab Switzerland site for more information. We'd love to share some of our experiences with you!